Charlie Mariano plays saxes and flutes.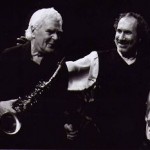 This project was born in 1991. I met Charlie Mariano personally in a recording of the group "Matukana". I admired him an knew his music and way of playing. Some time later I invited him to record in my CD "Color Cielo" (Genuit Music), then we started to give some concerts in duo. In July 2000 we played in Berlin Passionskirche and some months later Charlie invited me to make a CD in duo with him: "Tango para Charlie" – (Enja Records).
Playing with Charlie is an exceptional experience. We mostly play our own compositions around Tango and Jazz.
So far we have recorded two CDs: