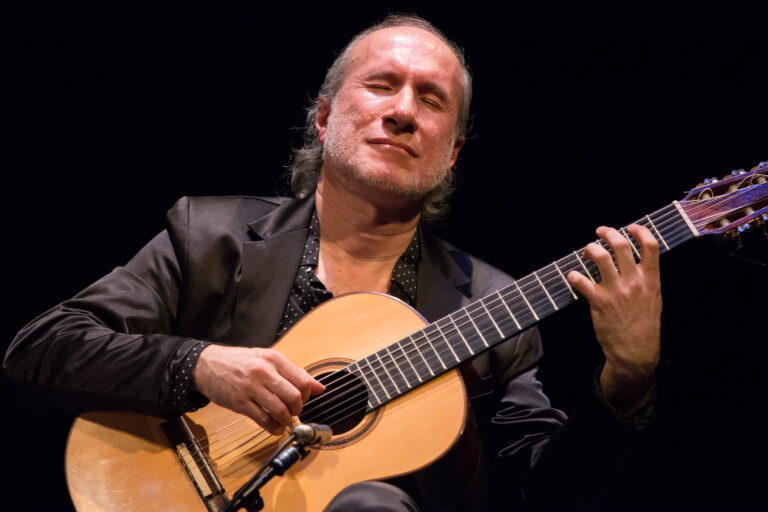 QUIQUE SINESI
Spanish guitar with 7 strings, Spanish guitar with 10 strings,
Piccolo guitar, Charango, Ronroco, Acoustic guitar.
He is considered one of the most important guitarists and
composers of the current scene in Argentina for his extensive national and international career.
In his music he incorporates elements of Folklore.
Rio de la Plata, Tango,Jazz and Contemporary Classical.
His works have been published in France, Japan, Belgium, Germany, Argentina
and have been played by important Argentine and world guitarists,
such as Victor Villadangos, Berta Rojas, Sharon Isbin, Stanley Jordan, Luz Maria Bobadilla,
Nora Buschmann, Silvina Lopez, Yasuji Ohagi, Juan Carlos Laguna,
Zsofia Boros,Stephanie Jones, etc.
Sinesi has played and recorded with prestigious musicians of the local
and international scene since very young as:
Dino Saluzzi, Alfombra Magica,Paquito de Rivera, Raices, Pablo Ziegler, Marcelo Moguilevsky,
Carlos Aguirre, Juan Falu, Silvia Iriondo, Nora Sarmoria, Carlos Dorado, Javier Girotto , Charlie Mariano, Michel Godard, Markus Stockhausen, Joe Lovano, Enrico Rava, Erling Kroner, Angelika Niescier,
Metropol Orchestra,WDR Orcchestra,Yamandu Costa,Marco Pereira among others.
His first international tour together with the quartet of Dino Saluzzi playing in Europe
at the Jazz festivals in Berlin, Zurich , Koln and other cities in Germany and Switzerland.
Since then he is travelling around the world participating in different projects.
He won a Latin Grammy in the year 2005 with the project with Pablo Ziegler
with Walter Castro like special guest and they were nominated for the same award in 2008 .
He recorded in Germany the concert for Guitar, Bandoneon and Astor Piazzolla Orchestra
with the Orchestra from Berliner Radio.
As soloist and other projects are presented in numerous Festivals and Concerts in: Argentina, Chile, Brazil, Bolivia, Paraguay, Colombia, Mexico, United States, Canada, Germany, France, Italy, Switzerland, Sweden, Norway, Spain,Luxembourg, Holland, England, Turkey, Greece, Korea, Croatia.Japon,Taiwan,China.etc.
In 2010 he released his record work "Cuchichiando", Works by Gustavo "Cuchi" Leguizamon,
with excellent reviews from the press.
In 2012 He made his first tours in Japan with Carlos Aguirre and then with Hikaru Iwakawa.
Uses of his live concerts in Japanese in the festival "Sense of Quite" is published in the same country.
He recorded the CD Avantgarde buenos Aires for Acqua Records, with Walter Castro, Horacio "Mono" Hurtado and Facundo Barreyra, he toured in Duet with Walter Castro for Germany, Switzerland and Austria. Records in Germany with Michel Godard (Tuba), Helena Ruegg (Bandoneon) for the label Enja Records.
In 2013 he is invited to participate in the prestigious International Guitar Night to represent Argentina sharing with excellent guitarists of the world such as Pino Forastiere (Italy),
Mike Dawes (England), Brian Gore (USA) to make a tour of Canada,
and in 2014 with the same project an extensive tour of the United States playing in very important halls.
He is currently making new material with his trio Eliana Liuni (Vientos) and Horacio Cacoliris (Percussion), with the Argentine bandoneon player : Walter Castro also made tours and concerts in Europe in duo bandoneon and guitar format,
in 2013 he has recorded 3 new projects with his compositions released in 2014 in Argentina and Japan,
duo with Hikaru Hiwakawa (Quenas and Flautas),
duo with Guadalupe Gomez (Voice and Lyrics).
In the same year he released his last album Soloist in Japan CD Doble titled
"7 dreams "&" Family "with guest musicians: Eliana Liuni, Horacio Cacoliris,
Olvido Lanza and Patricio Villarejo.
He also participates again in 2 CDs nominated for the Latin Grammy in the same year:
"Metropol orchestra meets Tango" Pablo Ziegler and Nostalgia "Julio Botti".
In 2015 "Desperate Dance" is published in Germany
by Pablo Ziegler & Quique Sinesi + special guest: Walter Castro, making a new European tour.
Participates as a soloist in the International String Festival of Hohenau 2015 (Paraguay).
In 2016 he made his 2 CD with music by Cuchi Leguizamon (Argentine Folklore) with guest musicians.
He also performs in 2016 participating in International Guitar Festivals in Turkey,
Mexico, and touring the USA and Europe.
Performances in Argentina with QUIQUE SINESI TRIO with Eliana Liuni:Vientos
and Horacio Cacoliris: Percussion.
In 2018,he participates again in the Hohenau International
Guitar Festival as an interpreter and teacher (Paraguay)
The same year he plays at International Guitar Festival in Kiev (Ukraine)
Make a European tour playing with Michel Godard (Tuba, Bass, Serpent) in Switzerland,
then with Ruslan Vilensky (Cello) in Latvia,
International Guitar Festival in Switzerland sharing with important guitarists like Pierre Bensusan,
he makes his new CD edited in Japan (Pequeños mensajes sonoros)" Small sound messages ",
making a successful solo tour for 9 Japanese Cities,finishing in Tokyo
with a live recording that will be released this year in Japan .
He also toured Chile with Quique Sinesi Trio and new European tours.
With Pablo Ziegler Trio they perform concerts in Germany, Austria, Ireland and in Asia at important Jazz Festivals in Korea, Taiwan & Hong Kong.
He recorded a new CD in Buenos Aires: "Guitarras Argentinas" with two Argentine guitarists: Sebastian Zambrana & Pino Enriquez, next edition.
In 2019 has published  published in Japan a new book with his compositions
in the most important editorial of Classical Guitar of this country GENDAI GUITAR.
In the same he recorded his last CD Corazon Sur,with his own compositions in the prestigous label
Acoustic Music from Germany and he was invited to play in the International Guitar Night
to play 20 concerts around Germany.
After this tour he did a new Tour in Japan playing in 10 cities ,makingthe presentation of a new album in Duo with Hikaru Iwakawa (UTA,Improvisations with Ethnic Instruments).