Quique Sinesi – guitars
Sergio Teran – woodwinds, flutes
Pablo Paredes – piano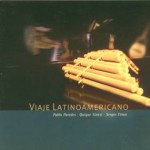 This is a project with 2 excellent musicians from Chile:
Pablo Paredes (piano) and Sergio Teran (Piano, Guitars, Charango, Ethnic Winds, Sax, Voice).
We play mostly our own compositions based in Latinoamerican Folclore
with elements of Jazz and World Music.
In the year 2000 we recorded our CD produced by Goetz Burki "ViajeLatinoamericano".