Pablo Ziegler, Piano,
Quique Sinesi, Guitar
special guest: Walter Castro, Bandoneon.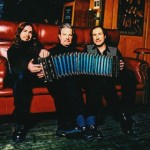 In 1990 Pablo invited me to play in his New Tango Quartet together with Horacio Lopez and Oscar Giunta making several tours out of Argentina.
Some years ago Pablo proposed to join in duo with him. Later we invited a special guest: the great bandoneonist Walter Castro. Since 2000 we did several tours in Europe. Our CD "Bajo Zero" won the Latin Grammy in 2005.
So far we have released two CDs:
Here is a video from youtube. It shows our recording with Pablo Ziegler and Walter Castro in the Auditorio de Cablevision, Buenos Aires playing la fundicion: