Moguilevsky is an outstanding musician from the Argentinian scene
His instruments are flutes, clarinet, saxes, harmonica and voice.
Around the year 1984 we did share some concerts with bandoneonist Dino Saluzzi in Argentina, we met again 10 years later in a concert of improvisation with other musicians.
Since then we have played together, first in a free form, then we started playing our own compositions.
So far we have recorded two CDs: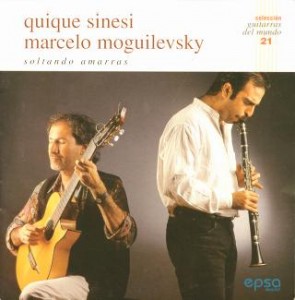 In 1998 we recorded the CD "Soltando Amarras" in Argentina for Epsa Music:
Click on the CD cover to go to my CD page.
There you can listen to 4,51 minutes of our piece "soltando amarras".
In 2007 we published "Solo el rio". Please click on the image to get more information.